Hi there!
Thank you for choosing Apps4Rent! We trust you are enjoying our services.
Many of our customers would prefer to access their Virtual Desktops from their Android phones. The Remote Desktop client for Android and Chromebook can be used to access Windows apps and desktops directly from Google devices. This guide would be of assistance should you require to access your remote desktop from Android phone.
Accessing Cloud Desktop Using Android
What will you need?
Please refer to our email with the subject line "Welcome Email." This email has important information for your easy access to Cloud Desktop. Please keep this information safe:
Desktop Name/RDP Host Name/IP
Username
Password
We have provided you the credentials to login to your cloud desktop. Now you have all the information that you need, let's get started.
Instructions:
Setting up Remote Desktop Connection
Start the Remote Desktop Services for Android application. You can get the application in Google Play Store.
Type 'Remote Desktop Services' in the search bar and press enter.

Launch the application after installation.

Click on the + symbol in the Connection Center.
Select Desktop from the menu.

Type in the PC name and Use the Add user account option to save the credentials on the device if you plan to access the Virtual Machine frequently from the device.
Type in the User name and Password.

Click on the newly added Remote Desktop to start a session.
You will now be able to access your Remote Desktop on your phone.
There are two ways to access content on local storage.
Redirecting local storage using Microsoft Remote Desktop
After selecting the Desktop option in the Connection Center in the Microsoft Remote Desktop Services application, you will be asked for the credentials.
Expand Show additional options.
Select the Redirect local storage option & tap on the Save button.

Follow the steps below if you want to map the drive at a later stage.
Tap on the three vertical dots to expand More options for the Virtual Desktop.
Click on Edit and then Redirect local storage from the Show additional options menu shown in the steps above.
Save the changes.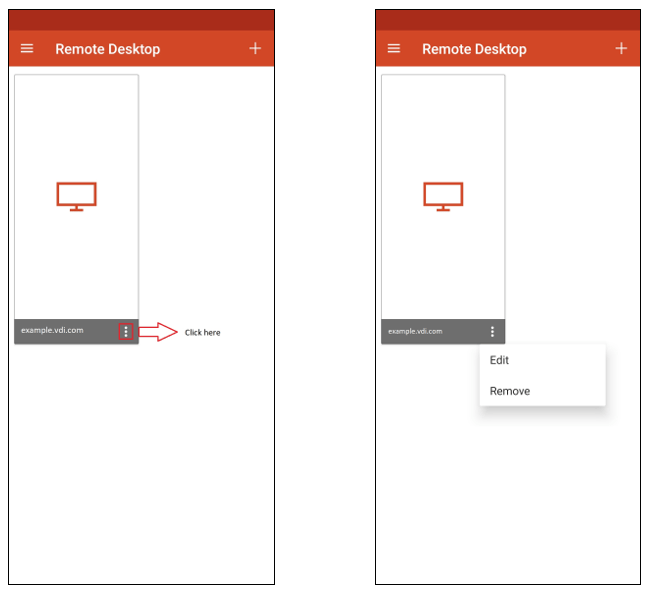 You'll find the mapped drive in This PC under Devices and drives.


Congratulations! You have successfully configured your Virtual Desktop on your Android device. If you still have any questions, please mail us to support@apps4rent.com or call 1-866-716-2040